A fireplace can be the centerpiece of any living room. However, an outdated, red brick fireplace can detract from the overall aesthetics of your home. Luckily, with some paint, you can transform your fireplace from outdated to modern and chic. This article will discuss how to paint a red brick fireplace grey to give your living room a fresh and updated look.
Choosing the Right Paint
Before painting your brick fireplace, choosing the right type of paint is essential. You want to paint that will adhere to the brick surface and withstand high temperatures. For brick surfaces, we recommend using latex paint that is specifically designed for masonry. High-temperature enamel paint is also an excellent option for those looking for added durability.
Preparation
Before painting your fireplace, you need to prepare the surface properly. Start by cleaning the brick with a mixture of warm water and mild detergent. Use a stiff-bristled brush to scrub away any dirt or grime. Once the brick is clean, allow it to dry thoroughly before proceeding.
Next, use painter's tape to mask any areas you don't want to be painted, such as the mantel, walls, or floor. Cover the floor and any nearby furniture with drop cloths or plastic to protect them from paint splatters.
Priming
To ensure that the paint adheres properly to the brick, it's crucial to prime the surface before painting. Use a high-quality primer that is specifically designed for masonry surfaces. Apply the primer using a brush or roller, covering the entire surface evenly.
Painting
Once the primer is dry, you can start painting your fireplace grey. Use a brush or roller to apply the paint, working in small sections. Apply the paint in thin layers, allowing each layer to dry before applying the next. This will ensure that the paint adheres properly and dries evenly.
You can use a paintbrush to stipple the paint onto the brick surface for a more textured look. This will give the brick a more rustic, textured appearance.
Finishing
Once the paint is dry, remove the painter's tape and touch up any needed areas. You can use a clear coat sealer to add a protective finish to your fireplace. This will protect the paint from wear and tear and make cleaning easier.
Painting your red brick fireplace grey is an excellent way to transform your living room and give it a modern and chic look. By following the steps outlined above and choosing the right type of paint, you can easily update your outdated fireplace and make it a focal point in your home. So, if you're looking for a budget-friendly way to upgrade your living room, consider painting your brick fireplace grey!
Painting Red Brick Fireplace Grey
Paint Your Brick Fireplace in 2 Easy Steps! Birkley Lane Interiors
Paint Your Brick Fireplace in 2 Easy Steps! Birkley Lane Interiors
Pin on Painting idea
Paint Your Brick Fireplace in 2 Easy Steps! Birkley Lane Interiors
How To Paint A Fireplace: From Vintage To Elegant
70s Fixer Upper Brick Fireplace Makeover – Before and After
I Painted My Brick Fireplace: 5 Years Later – A Real Interview with Brick Anew
What Color Should I Paint My Brick Fireplace? – Fireplace Painting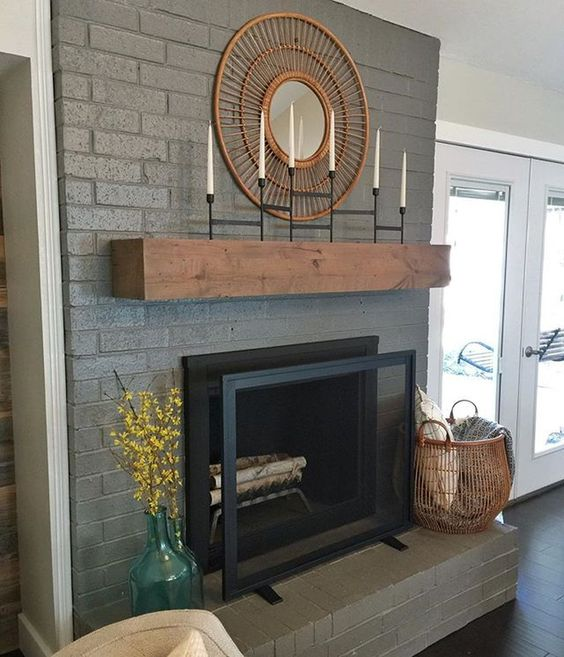 Paint Your Brick Fireplace in 2 Easy Steps! Birkley Lane Interiors
My Painted Brick Fireplace – DIY Tutorial –
The Best Paint Colours to Go With a Brick Fireplace Best paint
The Family Roomu0027s Fireplace Update Painted brick fireplaces
Related Posts: